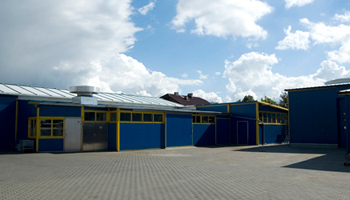 The KESMET company was established in 1990. In the beginning it provided services in the field of general locksmithing. Due to the high development of the food industry the company started to specialize in the production of machinery made from stainless steel and acid resistant steel.
In 1996 the company expanded with a new modern production space.
Currently, the company specializes in making all kinds of doors using the most modern system of pressurized foam. In addition, we produce a full range of finishes and equipment for the food industry, i.e. the butcher shops, bakeries, confectioneries and others, as well as for chemical plants.
In 2000, the production area was expanded by additional 350 m2. The company purchased a sanding device for stainless steel and launched new products. Despite the expansion the production area proved insufficient and as a result in 2005 a decision was made to further increase the production space. A new production hall was built with an area of ​​450 m2, equipped with a completely new stainless steel sheet working machines (CNC guillotine shears, CNC press brake, punching machine, mechanical bender).
The expansion, together with the purchase of new machinery, helped to modernize and increase the production and widen the scope of rendered services. The company launched new products. The products on our offer proved to be extremely popular, and the demand kept growing. Again, the production areas were eventually too small. Therefore, in 2008, the company purchased a production hall in Częstochowa with an area of ​​1250 m2. The production hall underwent a major renovation and was adapted to the production needs of our company. In 2010, we purchased a modern Trumpf laser cutter. This purchase helped to raise the quality of our products, increase product range, reduce the cost of production, and most importantly, accelerated the manufacturing process.
Kesmet has a modern machine park suitable for machining stainless steel which greatly contributes to a rapid delivery of our products. Kesmet products meet the European standards and are approved by the Polish Institute of Hygiene and Public Health in Warsaw.