Kesmet freezer doors for special tasks are made of the high-grade acid resistant stainless steel. They insulate areas with the negative temperature range from -50°C to -1°C. They are ideal for spaces with high humidity or laboratories with demanding chemical environment. The doors we offer are sliding or hinged – mounted on standard or raised hinges. Leaf thickness is 120 mm.
The construction of the steel freezer doors is reinforced with polyurethane foam, so that low temperature does not affect the shape of the metal. With the steel shape designed for individual orders the freezer doors have better insulation properties. The freezer doors  guarantee tightness allowing to maintain the same standardized operating conditions in a given environment.
Our customers appreciate Kesmet freezer doors for their long-term reliability, high aesthetic value and maintenance ease. Ensuring high hygiene standards is important in food industry (meat processing and dairy processing). Our freezer doors are also recommended for restaurant or hotel kitchens.
The cross-section of hinged freezer doors mounting option
"

A

"

0172
Type:
Leaf thickness:
Opening versions:
KS-D7
KS-D8
120 mm
120 mm
hinged
sliding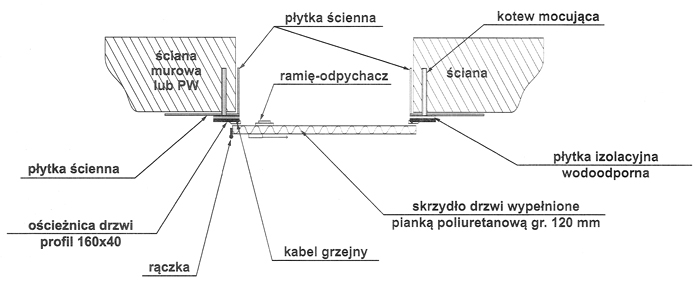 The cross-section of sliding freezer doors mounting option
"

B

"

0173
Type:
Leaf thickness:
Opening versions:
KS-D7
KS-D8
120 mm
120 mm
hinged
sliding