Kesmet cold-store doors are made of high-grade stainless steel. The core of the door is filled with the polyurethane foam which reinforces the whole structure.
We offer sliding doors, as well as hinged doors – mounted on standard or raised hinges. The selection of the door type depends on the assembly site, the characteristics of the premises, as well as the specifics of the space that is to be separated. The leaf thickness is 60 or 63 mm. This type of door is recommended for spaces with the indoor temperature in the range of 0-5°C. They are suitable for spaces with high humidity or difficult chemical indoor environment.
Our customers appreciate Kesmet cold-store doors for their long-term reliability, high aesthetic value and maintenance ease. They are recommended for application in food plants and in the laboratories, where samples need to be kept in cold stores, or the research to be conducted requires cool environment.
Meeting adequate sanitary requirements and providing appropriate storage conditions is also crucial for the wholesalers, warehouses, shops, markets, or transportation routes. Kesmet cold-store doors also find application in pastry shops, bakeries, and cafeterias.
The cross-section of cold-store doors mounting option
"

B

"

0169
Type:
Leaf thikcness:
Opening versions:
KS-D3
KS-D4
60 mm
63 mm
hinged
sliding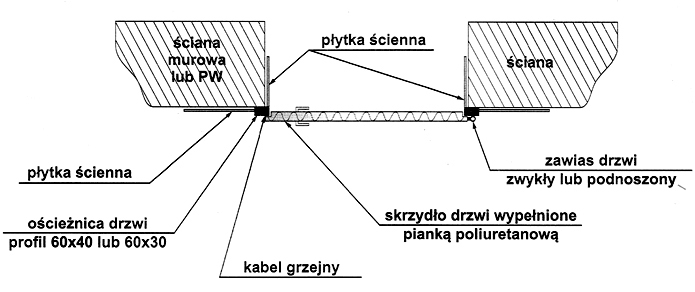 The cross-section of cold-store doors mounting option
"

B

"

0170
Type:
Leaf thickness:
Opening versions:
KS-D3
KS-D4
60 mm
63 mm
hinged
sliding

Przekrój drzwi chłodniczych opcja montażu
"

C

"

0171
Typ:
Grubość skrzydła:
Sposób otwierania:
KS-D3
KS-D4
60 mm
63 mm
zawiasowe
przesuwne