Light doors, household doors, industrial doors
Kesmet industrial doors are tailor-made to ensure the product quality which exceeds the standardized solutions available on the market.
Special operating and storage conditions require the use of the doors fitted to a particular door frame. The leaves are made of the high-grade stainless steel. We offer sliding doors, as well as hinged doors – with standard or raised hinges. Leaf thickness is 50 mm. Kesmet industrial doors are recommended for spaces with the indoor temperature in the range of 4-25oC. They are suitable for spaces with high humidity or difficult chemical indoor environment.
Our customers appreciate Kesmet industrial doors for their long-term reliability, modern design and maintenance ease. Our doors find application in the passageways, production halls and in niches that require safety enclosure. They are recommended for the pharmaceutical industry, food industry, catering industry, as well as for hospitals, stores, supermarkets, or in the places of storage of household chemicals.
The cross-section of industrial doors mounting option
"

A

"

0166
Type:
Leaf thickness:
Opening versions:
KS-D1
KS-D1
50 mm
50 mm
hinged
sliding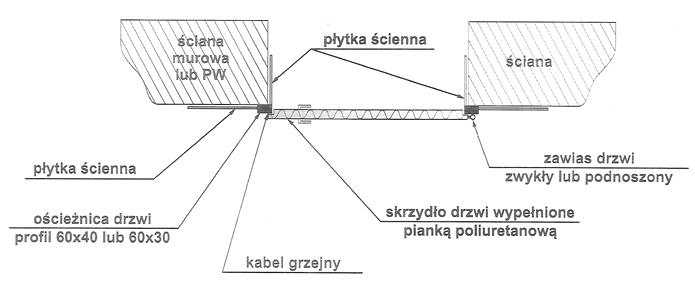 The cross-section of industrial doors mounting option
"

B

"

0167
Type:
Leaf thickness:
Opening versions:
KS-D1
KS-D1
50 mm
50 mm
hinged
sliding

The cross-section of industrial doors mounting option
"

C

"

0168
Type:
Leaf thickness:
Opening versions:
KS-D1
KS-D1
50 mm
50 mm
hinged
sliding